Tour de France Grand Depart diary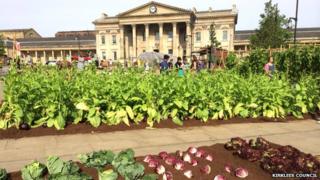 With the world's biggest bike race starting in Leeds on 5 July, BBC Yorkshire's Tour de France correspondent Matt Slater rounds up the best of the gossip, opinion and stories, on and off the bike, and also tries to explain some of cycling's unique lingo and history.
TOP STORIES
So, three days then, until the big sporting contest of the English summer: Dales CC vs Barningham CC in the Darlington and District Cricket League. And here is the best bit, if you bring your whites, you might get a game. Dales CC play in Reeth, and their ground is "encircled" by some bike race or other. Other teams in the league have been similarly inconvenienced but have managed to get a postponement. But not Dales, and they are struggling for numbers. "We're snookered, really," explains club secretary Peter McKay, referencing another sport that will mean nothing to the big bike race's competitors. Here is the good news, though, you can register to play until an hour before the game starts. "As long as they are warm and breathing, we will consider them," says McKay.
Full story: The Northern Echo
The diary likes a bit of high-brow stuff, every now and then, and was recently watching a documentary about the US city of Detroit, which has experienced such shocking levels of blight, crime and depopulation that whole swathes of the place are being reclaimed by Mother Nature. Where there were once bustling neighbourhoods, there are now pop-up farms and nascent forests. Do you know what? It is happening in Huddersfield! Right outside the train station on St George's Square, too. Commuters had to pick their way through the legumes, livestock and "real French gardeners" this morning. Our hold on this planet really is very tenuous.
Full story: The Huddersfield Daily Examiner
Ahem, in a break from the usual service of stories about commemorative beers, "elf & safety gone mad", Heath Robinson-esque land art and obscure pop culture references, the diary has an official statement to share from the Prime Minister. You are almost as likely to get a decent meal in Yorkshire as you are in London, apparently, and the region is as worth a visit as Texas.
Full story: gov.uk
CYCLING ROUND-UP
The riders have arrived (and started riding the route), the publicity caravan has landed, the press centre is open and Yorkshire is bedecked in bunting: we are only missing a doping story and then we can start the race….oh, here it is. Daryl Impey's non-selection for Orica-GreenEDGE was slightly missed in this country because of our excitement about Simon Yates getting a Tour ride at just 21. But it was noted in his native South Africa, and elsewhere, because he is an experienced domestique who wore the yellow jersey for two days at last year's Tour. We know now why Impey was not picked. The 29-year-old rider failed a drugs test for a masking agent at the South African time-trial championships in February. He revealed the news himself in a personal statement, which went on to categorically deny any intention to dope, or knowledge of how the substance got into his system.
This does not need to be a huge Tour de France 2014 story at all, but it is bound to generate a lot of heat over the next couple of days, particularly as it follows a difficult fortnight in terms of doping stories for professional cycling.
TWEET OF THE DAY
"We are, undoubtedly, the best country in the world at pretending to love soccer. #USA #proud #FifaWorldCup."
The absence of @taylorphinney from this year's Tour is a blow for lots of reasons. The American, who broke his leg in a crash last month, is a great rider who animates races with his aggressive style. He is also a bit of a character. Get well soon.
TODAY'S TOUR TRIVIA
The Tour loves a bit of history and is always looking for ways to add to its almost mythic past. Nothing wrong with that, of course, it helps the narrative. This year's Tour is a good example, as it is marking the start of the First World War by holding a stage through the battlefields on the French/Belgian border near Ypres. Unsurprisingly, the war interrupted the Tour, with the race resuming in 1919 on roads that will still scarred by the conflict. Cycling writer Suze Clemitson has written a superb piece in The Guardian about The Great War's impact on the race, pointing that three pre-war champions did not return home from the front.