Cities will lose out without new powers, warns leader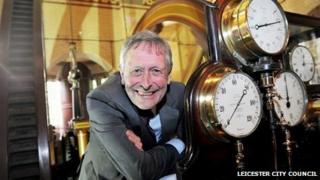 Gleaming in brass and polished tiles, the Abbey pumping station in Leicester is one of those tucked away Victorian gems.
It was the brainchild of civic leaders who wanted clean, safe water pumped throughout a growing city. It's also a reminder of the powers once enjoyed by political leaders in our big English cities.
Leicester's current political boss - Labour city mayor, Sir Peter Soulsby - is envious of the clout of his Victorian civic predecessors.
"They had the full range of powers to influence their local economy. Today, Whitehall and central government constantly feel the need to interfere," Sir Peter told me.
He welcomes a growing cross-party consensus to give our big cities more economic levers.
'Dynamic places'
Labour this week unveiled plans for city regions and Lord Michael Heseltine has been urging Downing Street to devolve more Whitehall power to the cities.
"Mayors and council leaders need to have those powers to ensure their cities have the right economic infrastructure in place," added Sir Peter.
"Roads, sewers, economic regeneration and housing: these are the areas where we need greater control, so that people know that the cities are the dynamic places to invest."
But the leader of the Leicester suburban borough council of Oadby and Wigston, Councillor John Boyce, isn't so enthusiast.
"It sounds like a good idea, unless you are in a borough like this where a 'city region' is imposed on you," he said.
His Liberal Democrat-run council area is one of the smallest in England, and he worries about the prospect of an overarching Labour-dominating city muscling in.
"What would happen if Sir Peter or anyone else was in charge without a democratic mandate outside the city? There's a danger the city would act as a big brother," he said.
So why did our big cities lose their powers in the first place?
Alistair Jones, a senior political lecturer at Leicester's De Montfort University, points to the economic crisis of 40 years ago.
"We saw in the 1980s a drive to reduce the provision made by the state. It reversed everything the Victorian institutions and cities were set up to do," he said.
"Labour started it in the 1970s, but Thatcher took it much faster and further. She took away many of the powers of local authorities and cities, leaving them with very little to do; monitoring services rather than being a service provider."
Labour's idea for City Regions - "economic powerhouses" as Ed Miliband called them - is to kickstart regeneration with a big dose of devolution from Whitehall.
But Conservatives and Lib Dems say there's already a policy in place that's delivering. It's the government's City Deal and its giving cities like Nottingham targeted funding for economic regeneration, such as the city's "Creative Quarter" to boost its digital/media sector.
"The City Deal in Nottingham has £25m and the government's allowed the city to spend that money upfront, unlike many other cities," said Jane Hunt, the Conservatives' parliamentary candidate for Nottingham South.
"It's interesting that Ed Miliband is coming round to Conservative thinking on how to revive our big cities, but the last thing that people and businesses will want is any form of local taxation," she added.
But can the government's policy really deliver the promise of turning our cities into economic powerhouses?
Sir Peter Soulsby believes economically successful city regions in Europe and the USA show the way ahead. And that raises the issue of local taxes.
"We need to have a wide range of financial measures," he said.
"So then, we can raise the money that's needed at a local level and be accountable for how it is spent in our local communities."
Is local taxation the price of restoring the economic mojo to our big cities? That particular debate has hardly started.