Stewards cleared over elderly Stoke City fan's fall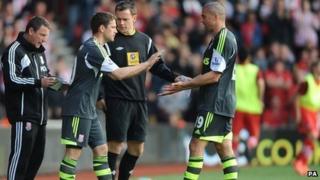 Stewards have been cleared of blame after a 93-year-old Stoke City fan was pushed over and injured.
Mabel Smith died from a stroke four weeks after the incident in May 2013.
"Unruly" Stoke fans had caused her to fall headlong into a concrete area at Southampton's St Mary's Stadium, the Independent Football Ombudsman said.
The ombudsman said the family claimed there was lax stewarding but the ombudsman said the incident could not have been predicted.
'Domino effect'
Mrs Smith was taken to hospital with cuts and severe bruising after her fall.
One of her daughters claimed the accident was avoidable and was due to "lax and inadequate" stewarding, adding her mother said men ran down gangways, with stewards failing to take action, the report said.
The ombudsman added perhaps three to five youths in the next section were "engaged in horseplay" which spilled into the gangway and caused "a domino effect", with the youths "cascading diagonally" into the adjacent section.
There was regular activity by stewards keeping gangways free and there were attempts to get supporters to sit down, the report said.
It added: "Perhaps more could have been done by the stewards. However, the explosive and unexpected nature of the incident could not have been predicted.
"The question in this case is whether the particular sequence of sudden events which caused the accident could have been anticipated or prevented. After a very thorough enquiry into the evidence, the (ombudsman) concludes that it could not."