Plans announced for £40m cycle and pedestrian bridge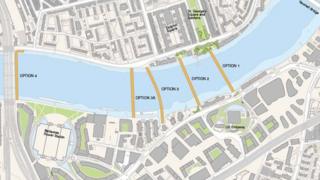 Plans have been announced for a new cycle and pedestrian bridge across the River Thames in south-west London.
The £40m bridge would stretch from Nine Elms to Pimlico and offer a safer car-free alternative to the nearby Vauxhall bridge or Chelsea bridge.
Wandsworth Council favours two proposed bridges near the new US embassy on the south bank of the river.
The bridge will be funded from the private Nine Elms development but could also be financed by sponsorship.
A study by Transport for London found the bridge could carry 9,000 pedestrians and 9,000 cyclists each day.
The council is seeking an architect to design the bridge. It hopes to have a shortlist of four by 2015 and will announce a winner later that year.
Wandsworth council's preferred option is for a bridge launching from near the planned US embassy building.
Ravi Govindia, leader of Wandsworth council and co-chair of the Nine Elms Vauxhall Partnership, said the bridge design "must integrate sensitively and effectively with their surroundings".
The new bridge is part of a £2bn infrastructure project intended to transform the Nine Elms area and will include two new Northern Line tube stops.