Millions of pounds of new funding for the East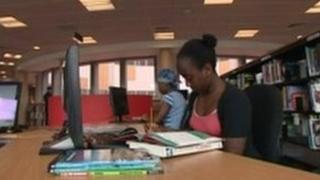 Hundreds of millions of pounds of government funding has been announced for our region and more than half of it will be spent within the next year.
This is a big award, which business leaders say will make a big difference, making it easier for local businesses to grow and the local workforce to be trained.
More than £400m will come into the region - £175m in the next year, with more than £300m to follow and local business groups, rather than Whitehall officials, have decided where this new investment should go.
'Transformational moment'
"This is a transformational moment for Norfolk and Suffolk," said Mark Pendlington, of the New Anglia Local Enterprise Partnership, who believes that once leveraged with private finance they could have as much as £300m worth of investment.
He added: "We've been given millions to spend on growth, jobs and enterprise. It's very exciting and this money is going to be very well used."
Sixty million pounds will be spent in Norfolk and Suffolk over the next two years
The money will help complete a number of projects including the roll out of superfast broadband, new relief roads for Bury St Edmunds and Beccles and further improvements to the A127 in Essex.
Further education colleges at Lowestoft, Easton and King's Lynn will expand, while there will be a new campus for Northampton college.
Grow the Economy
Elsewhere money will be used to dual the A421 which runs from Milton Keynes to the M1, at present it is single lane and often congested.
A planned housing development near Wellingborough, held up because a bridge needs to be built over the railway line, will now get the go ahead,
Jo Lappin from Northamptonshire's Enterprise Partnership, welcomed the news: "This investment from government will allow us to deliver thousands of new jobs, a significant number of homes and it will also allow us to grow our economy significantly."
Some of the money will help complete the roll out of superfast broadband and there will also be extra cash for the Cambridge Biomedical Campus.
The Local Government Secretary, Eric Pickles, visiting a specialist glue firm in Wellingborough, said there would be more loans for small companies which want to expand.
"It's going to do all kinds of things both in regard to transport links and housing links, getting new things moving and the best thing is, it's done in partnership with local people," he said.
The Labour party says the investment is welcome but questions why it's taken so long. Labour are critical of the local growth deals which are being delivered a year out from the general election.
Andy Sawford, Labour's shadow local government minister, said the announcement felt like a pre-election bribe and it was too little too late.
Before the last general election, in 2009-10, the now abolished East of England Development agency spent £162m in the region.
Labour's shadow business secretary Chuka Umunna said: "David Cameron's government is desperately trying to play catch up.
"The announcement falls far short of Labour's radical plans... to devolve £30bn of budgets away from Whitehall.
"Labour would give new powers and budgets to local areas, including over business rates revenue. The Tory-led government… abolished Regional Development Agencies without putting in place a proper replacement."
Nevertheless, this money will make a difference.