Ministry of Defence to review RAF commitment to air shows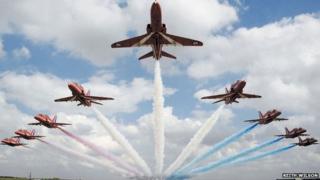 The suspension of the RAF Waddington international air show has led to a full review of the Ministry of Defence's commitment to all shows.
Essential work to the Lincolnshire base means next year's event has been cancelled while RAF Leuchars, in Scotland, has moved to Lossiemouth.
The Ministry of Defence confirmed it is rethinking its role in national air shows and displays around the world.
An online petition to save Waddington's show has been started.
The MoD confirmed it would review its commitment to air shows following the cancellation of the Waddington event, which attracted 150,000 people at the weekend.
The two largest RAF organised shows were at Waddington and Leuchars but it provides displays and support at dozens of others around the country and in Europe.
At many of the more than 100 events around the country the Red Arrows, and other RAF teams, stage displays and fly-pasts.
While the number of Red Arrows displays is reviewed, the Prime Minister David Cameron has previously guaranteed their future.
A spokesman said "nothing is on or off the table" in the discussions involving senior staff and politicians - but refused to be drawn on a timescale.
"We have got to look at what we are achieving, what we are trying to achieve and where we should be doing air shows," he added.
"It's not just about our air shows, it's about where we support other air shows as well."
"Just because we currently run air shows at our stations doesn't necessarily mean we have to do something in the future."
'Cost cutting measure'
A petition to keep future shows at RAF Waddington had attracted more than 3,000 signatures by Wednesday afternoon.
Tony Dixon, contributing editor at Airliner World Magazine said if organisers at RAF Waddington want to put on a show in 2016 the review will have to be complete by early 2015.
"It's a cost cutting measure really," he added.
"[These reviews] happen periodically to see what commitments the RAF is going to do to PR."