Concerns over Lyme Bay rope mussel farm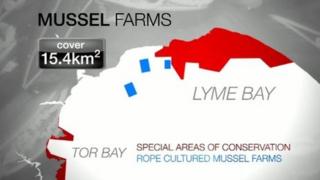 Fishermen have raised concerns about a proposed 15 sq km mussel farm off the coast of Dorset.
The firm Offshore Shellfish has a 15-year lease in Lyme Bay from the Crown Estate and is testing three small sites for cultivating rope-grown mussels.
Fishermen said the plans would reduce the area where they could trawl.
Offshore Shellfish said testing of currents in the bay could take up to two years to establish if the project would be viable.
Lyme Bay has seen several disputes over fishing rights in recent years.
Some fishermen in the area have complained that fishing grounds off Devon and Dorset have already been closed off for conservation, and they believe a mussel farm would restrict their catches further.
Lyme Bay fisherman Paul Wason said: "None of us has been consulted, so we're a bit miffed that they're putting it out on trawler ground."
The technique of growing mussels on ropes involves seed mussels being introduced to ropes which are suspended in the sea.
They mature in a year - compared with two in the wild - and fishermen then just have to pull out the ropes to harvest the shellfish.
Offshore Shellfish said it could produce up to 10,000 tonnes of mussels a year.
It added its currents testing could take to two years to confirm whether sites being trialled could be developed.
If successful, it would expand the farm next year or in 2016, the company said.
The Marine Management Organisation, which regulates sea activity, said it would consider any submissions from the public about the impact of the proposed mussel farms.