English cathedrals awarded £5m for repairs from WW1 fund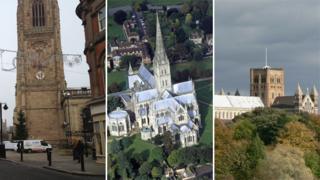 More than 20 cathedrals across England have been awarded £5m by the World War One Centenary Repairs Fund.
The 22 buildings, "from Truro to Newcastle", will be able to "fix leaking roofs, repair stained windows and replace stonework".
Derby Cathedral will receive the most at £535,000, followed by £485,000 for Salisbury and £438,000 for St Albans.
Culture Secretary Sajid Javid said it was to "preserve these magnificent buildings for future generations".
'Hugely important'
Other cathedrals to be awarded grants were Gloucester, which was awarded £233,500 for conservation work on masonry and glass in the 15th century Lady Chapel, and £35,000 for Northampton to remove and repair stained glass windows.
Bradford Cathedral received £190,000 to mend roofs and timberwork, Coventry got £100,000 for "urgent stabilisation" and £290,000 was given to Westminster to recover the nave's asphalt roof.
Truro Cathedral was awarded £50,000 to fix damage caused by the February storms.
Peterborough received the smallest grant - £14,500 to re-lead three windows to "ensure they are weather-proof".
Chair of the fund Sir Paul Ruddock said: "Spanning over 1,000 years of architectural history and housing many treasures, English cathedrals are a hugely important part of England's heritage."
The £20m fund was announced by the chancellor in the 2014 budget to enable cathedrals to "undertake urgent repair work" and was considered to be important for WW1 commemorations.
This funding allocation was the first of three rounds.
The next round closes in September with the final round closing in January 2015.