Stanford Hall to replace Headley Court as rehab centre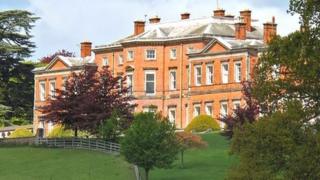 A rehabilitation centre for injured soldiers at Headley Court in Surrey is set to move to a stately home in Leicestershire.
The new £300m Defence and National Rehabilitation Centre will be based at Stanford Hall, near Loughborough.
The centre will be funded by donors led by the Duke of Westminster, who bought the stately home in 2011.
The Ministry of Defence (MoD) said the new facility would be of "great value" and is due to open in 2018.
'Impact on jobs'
Air Marshal Paul Evans, the MoD's surgeon general, said: "With a smaller armed forces, with a greater use of reserves then the ability to maximise fitness, to get people back fit quickly, is really important.
"For me we're talking about the next 10 to 20 to 30 years, and therefore to be offered by donation a spanking new purpose built facility, from a surgeon general's perspective, is of great value."
Although the MoD does not own Headley Court it has spent about £30m on improving the facilities.
The charity Help for Heroes, which has donated more than £8m to the centre, said all of their funded facilities will be transferred to Stanford Hall.
A new hydrotherapy pool will be built at Stanford but at no extra expense to the charity.
Bryn Parry, co-founder and chief executive officer of the charity, said: "The whole cost of this is being met by the Duke of Westminster's charity so every pound generously donated to Help for Heroes will continue to make a massive difference."
Canon Peter Bruinvels, who works with the Army Benevolent Fund and is Surrey County Council's civilian-military liaison officer, said he was very sad Headley Court was being replaced.
"One of the reasons they are giving is that the new site will offer holistic healing, a tranquil landscape and rural setting but all three are offered already at Headley Court," he said.
"Headley Court gets 20,000 patients coming through each year and care and attention and love are given to each of them.
"There are over 300 staff, of which 50% are Ministry of Defence employees and that will impact on the local community if jobs are to go."
Headley Court is a Defence Medical Rehabilitation Centre (DMRC), but Stanford Hall would be a Defence and National Rehabilitation Centre (DNRC).
The main difference between the two is that the expertise used to treat the service personnel would be used to treat the wider public, for example people who have been involved in car accidents.
Stanford Hall was chosen because of its central location and accessibility to Queen Elizabeth Hospital in Birmingham, where armed forces personnel are also treated.