Liverpool £2m heroin seizure: police hunt James Taylor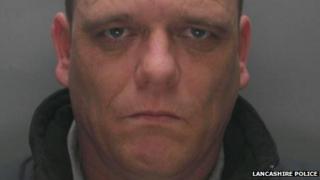 An international search has been launched by Lancashire Police for a Liverpool man, after heroin with an street value of over £2m was seized.
Police said 7kg (15lb) of "extremely high purity heroin" was found at a house in Montrovia Crescent, Liverpool.
James Taylor, 40, from the same address, is wanted on suspicion of conspiracy to supply class A drugs.
His photograph and details have been circulated "nationally and internationally", a spokesman said.
A 28-year-old Liverpool woman was arrested on suspicion of being concerned in the supply of heroin and bailed until August, police said.
The heroin, found in a bag in a bedroom at the house during a raid on 30 June, was 70% pure, according to police.
Heroin sold on the street usually ranges in purity from 20% to 50%, their statement said.