Jayden Parkinson killing: Ben Blakeley says he 'deserves death sentence'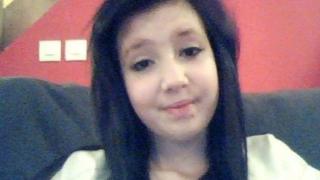 A man who strangled his pregnant ex-girlfriend and buried her in his uncle's grave has told a court he "deserves a death sentence".
Ben Blakeley, 22, from Reading, admits killing 17-year-old Jayden Parkinson and burying her near Didcot in December, but he denies murder.
He said her death was an accident after he grabbed her throat in an argument.
Giving evidence at Oxford Crown Court, Mr Blakeley said: "I deserve a death sentence for what I done."
He had told the court he had dug two shallow graves, one in the countryside close to where he killed her and the second in the grave of his uncle, Alan Kennedy, at All Saints' churchyard in Didcot.
Mr Blakeley, of Christchurch Road, Reading, was helped dispose of Jayden by a 17-year-old boy, who cannot be named for legal reasons, the jury has been told.
The boy has admitted perverting the course of justice but denies preventing the lawful burial of Jayden.
Richard Latham QC, prosecuting, said when Mr Blakeley buried Jayden the first time her body would have been stiff.
'No nice way'
He said: "There came a time when you had to manhandle her into the hole the two of you had dug."
Mr Latham asked Mr Blakeley how he was able to get Jayden, who was 5ft 6in tall, into a large suitcase less than 3ft in length.
Mr Blakeley said: "There was no nice way of doing what I was going to do.
"There was no way of doing things respectfully."
Mr Latham also told Mr Blakeley he was "cool as a cucumber" when he took a taxi with the suitcase to All Saints Church.
Mr Blakeley replied: "I had to act normal."
Swearing a number of times throughout his testimony, the defendant also told the court how the events haunted him.
He said: "I am responsible for all of this. That night is like a video in my head and I see it and it doesn't fade away."
Giving evidence for the first time, the boy who helped Mr Blakeley said he had no idea he was burying Jayden.
"[Ben] said he was going to go and bury some weapons," he told the court.
"At the time I didn't put two and two together but now I think about it...
"If I said no I would have been just told to do it anyway."
He described Jayden's ex as a "scary person" but did not think he had killed Jayden.
Martin Steen, representing the youth, asked: "Did you have any idea that Jayden might be in that hole that you had dug?"
He replied "No. I would have gone to the police."
When Mr Blakeley buried Jayden for a second time, this time at the graveyard, the teenager said he was told it was to tidy Mr Kennedy's grave for Christmas.
"He said it was evil to dig in a graveyard so we have to do it at night and I didn't know anything about that, so I went along with it.
"I thought we were digging about an inch and put down some new stones and the next day Ben was going to take me to Abingdon to get a headstone."
The trial continues.