Louise Stewart blog: The spread of caste discrimination?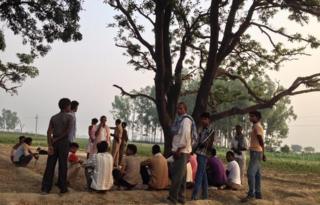 There was worldwide condemnation when two teenage cousins were gang raped and murdered in India in May.
The father of one of the victims said police refused to help search for his missing daughter because she belonged to the Dalit caste - formerly known as the untouchables.
But caste discrimination isn't confined to South Asia - it's a growing problem here in the South East too.
Desraj Bunger a leader in the Guru Ravidass Sabha UK Community says the government must take action.
He said: "The caste problems we're having in this country have followed us from India... our government needs to support us because we're desperately in need of their help."
'You've dirtied my car'
Samir Jassal who advises the government on relations with the Indian community in the UK believes this kind of discrimination is increasingly becoming a problem amongst the younger generation.
Jat Paul agrees and describes a recent incident involving his young nephew who tried to take a taxi home.
He said the driver refused to take him home because he believed he was of a lower caste. He said the driver didn't want him in his car and told him, "you've dirtied my car by entering it".
Now a group of Kent MP's lead by Gravesham's Adam Holloway, and including the Rochester and Strood MP Mark Reckless and Dartford MP Gareth Johnson, have joined forces to fight it. They're calling for the government to make it illegal to discriminate on the grounds of caste.
Mr Holloway said: "We live in Britain, we don't have a caste system here and I think the law probably needs to grow up and reflect that."
It has long been illegal to discriminate against someone on the grounds of race, religion or sexuality but by speaking out about the issue the MPs hope the government will act and prevent others suffering abuse and prejudice because they are considered to be from family of a lower social class.
In a statement the government said caste discrimination is a complex issue and it needs to ensure it is fully understood before it can be legislated for.