Durham Miners' Gala: Thousands on city's streets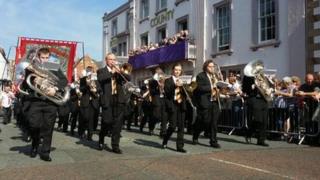 About 100,000 people attended the 130th Durham Miners' Gala, organisers said.
Dozens of brass bands marched past crowds lining the streets ahead of a gathering on the Racecourse.
"Big Meeting" speakers included Aslef rail union general secretary Mick Whelan and Bolsover MP Dennis Skinner.
The future of the annual celebration was in doubt after organisers Durham Miners' Association (DMA) had to pay out £2.2m in costs following the loss of a six-year court battle.
The DMA had taken its fight for compensation for former miners with osteoarthritis of the knee to the Court of Appeal.
A fundraising appeal secured enough to cover the £60,000 annual running costs up until the end of this year.
Other speakers at the gala included GMB general secretary Paul Kenny, Prison Officers' Association general secretary Steve Gillan and National Union of Teachers general secretary Christine Blower.
Ms Blower said: "It's a very great honour to be asked to speak. It's not one of these things where you just turn up and expect to get on the list.
"The Durham Miners' Big Meeting, as I still think of it, is very significant in the trade union calendar and I think the one people are probably most sentimentally attached to is probably the one in Durham."
Tributes were paid to the late Labour minister Tony Benn and late RMT union general secretary Bob Crow.
Organisers said it had been the largest turnout since the 1960s.
Durham Police praised those who attended for creating a "carnival atmosphere".