Could motor racing return to Birmingham?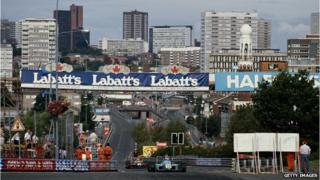 Hopes are rising that a change in law will lead to motor racing on the streets of Britain - or in the case of Birmingham - returning after a break of more than 20 years.
Every spring, yellow crocuses beside the city's Bristol Road spell out a few letters of "Birmingham Super Prix" - a reminder of the glory days when thousands of people saw Formula 3000 cars race along a 2.6 mile city centre circuit.
The event, staged from 1986 until 1990, saw cars travel at up to 200mph along closed city roads and through the tunnels that intersect the city centre.
Years of discussions and campaigning led to the race being permitted via a special act of Parliament until it ended amid financial concerns and complaints from MP Clare Short.
But now the government has said red tape will be cut and local authorities given powers to suspend speed limits and regulations to host such events.
British motor racing legend Sir Stirling Moss is among those calling for its return.
"I think Birmingham would be an excellent place to have it," he said. "People are enthusiastic, it is central to England, and people can fly there too."
"Another good thing about having it in Birmingham is that it would be a bigger event within the city of Birmingham than in the city of London," he said.
Sir Stirling said he believed a Grand Prix in central London would be "exceptional" but admitted it would be "tremendously complicated" to organise because of the infrastructure needed.
Racing fan Matthew Taylor, 32, of Chelmsley Wood, near Birmingham, remembers watching the penultimate Super Prix as an enthralled seven-year-old.
"I remember in 1989, this man in a yellow car and it was Jean Alesi who was to become one of my favourite Formula One drivers," he said.
"He was an amazing driver, he had flair and he had passion. He drove a Ferrari in the mid-90s, the number 27. He is still a legend today."
Mr Taylor is among more than 1,100 people who signed a petition, started by hyper local website Birmingham Updates, calling for the city council to bring back the Super Prix.
"I think it's about getting closer to the action than at a normal track," he said. "At Grand Prix like Silverstone you are a bit too far back so you would be closer to feel the noise and the speed. I'd love to see it come back to us, it would be absolutely amazing."
Martin Hone, who helped plan the original Super Prix, said he was disappointed Birmingham, the first UK city to host motor road racing, had not become the permanent home for an annual event.
"My personal view goes back to my own motor racing days, we never had road racing so never had the experience we needed overseas," he said.
"You really have to be precise with road racing. If you make a mistake you are going to hit the barriers."
In 1990, the then-MP for Ladywood in Birmingham, Clare Short, told the House of Commons: "Here we have a two-day race taking place in the middle of the city around a residential area.
"It is deeply unpopular with the people who live there, it disrupts traffic going in and out of the city for weeks on either side of the race and it cannot cover the costs."
The race that year was the final one.
If the race was to succeed again it would need to overcome financial and PR problems that beset the original.
Figures cited in a Parliamentary debate in 1989 revealed that staging the race led to a loss in 1986 and 1987, and breaking even in 1988.
Birmingham City Council has also suggested financial constraints would hamper future race plans.
The 1989 race cost £1.3m to stage, and under the same conditions and allowing for inflation, would today cost £2.7m.
Councillor Ian Ward, deputy leader of the Labour-run council, said it had been "at the front of the grid" on motorsport by going to Parliament to get an act of law passed, but all councils now "faced the unavoidable reality of reduced budgets".
"Major motorsport events require big sponsors and event organisers also always look to local authorities for financial support and backing," he said.
"We are always keen to attract new events to Birmingham, but in this climate, we would need to look at any proposals very closely to see if they were in the best interests of the taxpayer.
"However, the ability to suspend the Road Traffic Act could also prove very helpful in terms of attracting production companies wishing to shoot major films on the city's streets - which would be an added bonus to be gained from these proposals."