WW1 centenary poppies 'planted' in Tower of London moat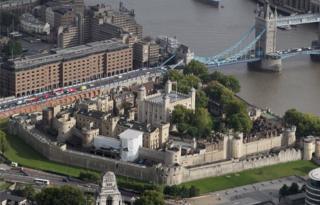 Hundreds of thousands of ceramic poppies are to be 'planted' at the Tower of London to mark the centenary of the outbreak of World War One.
The 888,246 poppies, representing all British and Commonwealth fatalities, will be installed in the dry moat around the famous landmark.
The first of the poppies will be set in place later.
The finished installation, designed to look like a sea of red, will be unveiled on 5 August.
The work has been designed by Derbyshire artist Paul Cummins and created in conjunction with Olivier Award-winning theatre designer Tom Piper.
'Dark years'
It is called Blood Swept Lands and Seas of Red, inspired by a line from the will of a Derbyshire serviceman who died in Flanders.
He described "the blood swept lands and seas of red, where angels fear to tread".
First World War Centenary minister Helen Grant said: "This promises to be an impressive and eye-catching work that will, I hope, really bring home to everyone the sheer scale of the sacrifice our servicemen and women made across those dark years in our history."
The Tower of London was used as a recruitment centre during the war and in 1914 the moat was used to swear in more than 1,600 soldiers.
The men were City workers enlisted into the so-called Stockbrokers Battalion.
They called themselves Ditchers after the moat, known as Tower Ditch.
The Tower also acted as a military depot and a ceremonial setting-off point for regiments who had been stationed here.
Eleven German spies were executed at the Tower of London during the war, including two shot in the moat.
The first was Carl Lody on 6 November 1914, making him the first person to be executed there for more than 150 years.
Poppies are a symbol of remembrance in the UK, and the installation will remain until 11:00 GMT on Remembrance Day, 11 November.
The poppies are being sold for £25 each, raising about £15m for six armed forces charities.