Retired Bishop Peter Ball faces more sex allegations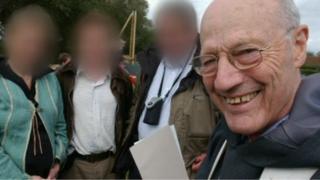 A retired Anglican bishop is to face two further allegations of indecent assault, including one on a boy under 16.
Bishop Peter Ball, 82, faces indecent assault allegations on the under 16-year-old between 1984 and 1985 and a man over 16 between 1990 and 1991.
The former Bishop of Lewes and Bishop of Gloucester has been summonsed to Brighton Magistrates Court on Thursday.
He was already facing two allegations of indecent assault on a man and a boy.
He has also already been accused of misconduct in public office between October 1977 and December 1992.
The previous offences are alleged to have taken place in Litlington, East Sussex.
The new offences are alleged to have taken place at Litlington and Berwick in East Sussex.
Bishop Ball was due to appear before Brighton magistrates to answer the earlier allegations on 10 April, but the court was told he was too unwell.
Sussex Police said he was now due to appear at an unnamed crown court on 1 August.
Police said the decision to summons Bishop Ball follow Operation Dunhill, an investigation into information received from the Church of England in May 2012.
Bishop Ball, of Aller, near Langport in Somerset, resigned as Bishop of Gloucester in 1993.