Ryanair investigates East Midlands Airport flights mix-up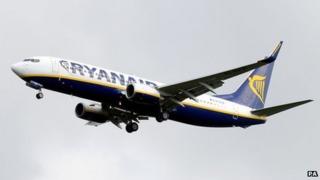 Ryanair is investigating how two families were allowed to board the wrong flight at East Midlands Airport.
The six passengers were accidentally put on a flight to Latvia when they were meant to be flying to Spain.
One passenger told the Birmingham Mail it highlighted a "massive" security risk, saying he "could have been a terrorist or anything".
Ryanair apologised for the mistakes and said it will ensure a similar incident does not happen again.
The families, from Cannock in Staffordshire and Rotherham in South Yorkshire, did not know each other before the mix-up on Tuesday morning.
They were taken off the plane before it departed, but were unable to board the correct flight at an adjacent gate.
Earlier this year a widow passed through security at East Midlands Airport using her dead husband's passport, after she mistakenly picked up the wrong one.
The mistake was only spotted by passport control in Fuerteventura after she had arrived in the Canary Islands.
Commenting on the latest mistakes, Ryanair said in a statement: "While it is the responsibility of each customer to ensure they board the correct aircraft, we have asked our handling agent at East Midlands to investigate this incident and ensure it does not recur.
"We sincerely apologise to the customers in question, who have been transferred on to the next available flight free of charge, provided with refreshment vouchers and advised to keep receipted expenses for reimbursement of additional transport costs."