Contracts signed on barracks scheme in Brighton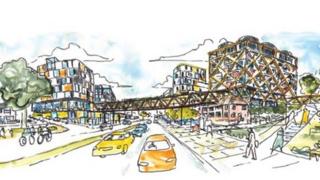 Contracts have been signed for the purchase of a former army barracks in Brighton earmarked for an innovation hub, homes and offices.
The University of Brighton plan was among a number of schemes to receive £200m of government funding.
Now the university has exchanged contracts with Brighton and Hove City Council to buy and redevelop the Lewes Road site at a cost of £150m.
The agreement means the scheme can be worked on in more detail.
The funding from the government is to come via the Coast to Capital local enterprise partnership (LEP) over the next six years.
Research laboratory
The university said it was to receive £17.4m of which £7.7m would be injected into the barracks scheme.
It will include 350 housing units, student bedrooms, a central research laboratory and a health centre.
The redevelopment by the university covers two other sites, including land and a car park next to the barracks and the Mirthas House car park on the opposite side of Lewes Road.
Overall, there will be 1,300 bedrooms, 350 homes and 25,000 sq ft of retail space.
It is hoped the regeneration, which is still subject to planning, will create 740 jobs over 10 years with the hub supporting start-up companies and entrepreneurs.
Jason Kitcat, leader of Brighton and Hove City Council, said: "This is a result of a great deal of work between the three partners to develop one of our city's biggest brownfield sites."