Stalking complaints up 60% in five years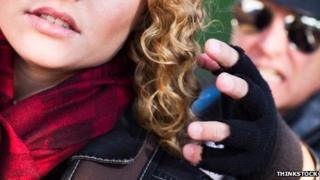 Complaints of stalking in Devon and Cornwall have risen by more than 60% over the past five years, according to figures obtained by the BBC.
There were more than 1,220 reports to police in 2013 - more than 100 a month.
That was up from 753 in 2009, according to a response under the Freedom of Information Act.
The figures also showed prosecutions related to stalking had gone up by about 50% in the last five years, from 236 in 2009 to 354 last year.
Former ITV South West news presenter Alexis Bowater was sent more than 50 emails of a violent and sexual nature by 26-year-old Alexander Reeve, who was jailed for four years in 2009.
'Voices stolen'
Ms Bowater, who led the charity Network for Surviving Stalking (NSS), said: "It's difficult for lots of stalking victims to come forward.
"Stalking traps people in a relationship that they don't want to be in with the perpetrator.
"Most stalking victims suffer at least 100 incidents of unwanted behaviour before they tell anyone about it and that's why it's so important to take this crime seriously."
She said that she was in a "prison of her own" until Reeve was imprisoned.
"That freedom gave me the courage to represent other people who had had their voices stolen from them."
Devon and Cornwall Police said: "Safeguarding vulnerable people is a priority for the force and this includes those victims of stalking and harassment.
"The force is working to promote continued awareness around these types of crimes and to protect victims, increase confidence in reporting, and reduce the risk to them."
Stalking became a criminal offence in England and Wales after the Protection of Freedoms Act 2012 included new specific offences of stalking.