Leicester and Nottingham's black youth film project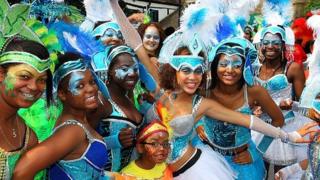 The lives of young black people in Nottingham and Leicester in the 1980s are being compared to those of today, as part of a community film project.
Making Waves aims to find out if opportunities for people from the black community have changed and improved.
The film is being made over the summer and will also look at aspects of youth and cultural identity, including music and fashion.
It has received a grant from the Heritage Lottery Fund.
Comparing generations
Patcee Francis, from filmmakers Syncopate Media, said: "The project is looking at two generations - those who were in their teens and early twenties in the 1980s and those of the same age today."
She added: "It's about making a comparison between those two generations and comparing the aspirations and experiences of black British people - with the understanding that in 1980 it was only four years after the Race Relations Act was introduced."
The project, which is being run in partnership with Leicester Masaya Link Group, aims to gather people's stories at workshops taking place in both cities.
It will ask whether the "waves" created by the first generation have made a difference for those that followed.
The new film is expected to be released in March 2015 and shown at the Peepul Centre in Leicester and at the Nottingham Playhouse.