Floods follow intense storms in south-east England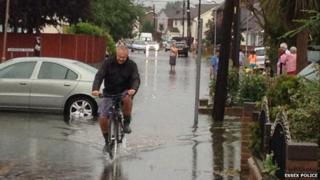 "Intense storms" have caused flooding across parts of southern and eastern England.
A number of roads and homes were flooded across Essex, where police urged people in Canvey Island to "sit tight and wait for levels to drop".
Southend University Hospital's accident and emergency department closed due to flooding but has now reopened.
There are also three flood warnings - in East Yorkshire, Norfolk and Essex and more than 20 flood alerts.
A Met Office yellow warning for rain across eastern Britain - from Kent to the Orkney Islands - is due to stay in place until 23:55 BST on Sunday.
Forecaster Matt Taylor said BBC Weather had received reports of "intense storms" and flooding in east London, Essex and Cambridgeshire stretching up towards Lincolnshire.
The Environment agency flood warnings are for Spixworth Beck in Norfolk, sections of the River Roach in Southend, Essex, and North Cave Beck, in East Yorkshire.
Essex County Fire and Rescue Service say it focused on three areas: Canvey Island and Rayleigh, and Waltham Abbey, close to the Hertfordshire border.
Four fire appliances were called to Canvey where 40 houses have been flooded.
The Environment Agency said 60mm (2.3 inches) fell on Canvey Island in a very short time and the "sheer volume of rain" overwhelmed surface water drainage systems.
A lightning strike took power out for 12 minutes before a backup generator became operational, it added.
Train lines between Southend Victoria and London Liverpool Street were also blocked after lightning damaged the signalling system around Shenfield.
Earlier, Essex Police tweeted: "Huge areas of Canvey flooded with many roads closed. No access on/off for normal vehicles. Sit tight and wait for levels to drop."
The force said Canvey was the "area with the greatest problems", where residents were "suffering further anguish as some motorists are driving irresponsibly fast through flood water causing waves of water to enter their property".
Jan Murphy, from Canvey Island, said: "I couldn't get near my house because the roads were so flooded.
"I had to dump the car, take off my shoes and walk through a foot of water to get home. It was up to my knees.
"The water is up to the first step of our front door, we have two steps. But every time a car drives past, the water gets closer to our front door and it laps up against the steps."
Essex County Fire and Rescue Service said it had been "quite stretched".
Strike action by fire fighters between 17:00 and 19:00 BST meant there had been reduced cover but the service had been "attending all incidents", with 30 appliances on duty.
A spokeswoman said officers had been dealing with a range of calls from "lightning strikes to people stuck in cars in floods".
Norfolk Fire and Rescue Service was called to numerous flooding incidents in locations including Norwich and Rackheath.
The Lambeth Country Show at Brockwell Park in Brixton, south London, was abandoned after torrential rain.
On Twitter, organisers wrote: "Sadly, we have had to close the event. We thank you for coming this weekend but ask could you leave the park in a sensible manner."