Shale gas reserves in the North West 'worth £10bn'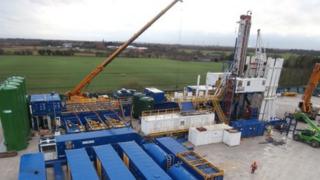 Shale gas reserves in part of the North West could be worth £10bn to the economy and support up to 3,500 jobs, a report has claimed.
The figures are based on extracting five trillion cubic feet of gas at 30 sites in Merseyside, Greater Manchester and Cheshire between 2017 and 2031.
The report by AMION Consulting was commissioned by energy firms IGas and Peel Environmental.
An anti-fracking group said benefits to the economy were exaggerated.
Hydraulic fracturing, or fracking, involves pumping a mixture of water and chemicals into shale rock at high pressure to extract gas and oil.
IGas is currently analysing the results of test drilling for shale gas reserves at its site at Barton Moss Road, Salford.
The energy firm is also applying for permission to conduct exploratory drilling at a second site in Ellesmere Port.
Both sites are owned by the Peel Group.
IGas' chief operating officer John Blaymires, said the findings show the Ocean Gateway region, an area which includes Liverpool, Manchester, Warrington and parts of Cheshire, was "sitting on a potential £10bn investment opportunity".
Myles Kitcher, the managing director of Peel Environmental, said the expansion of the shale gas industry could be a "catalyst" to boost economic growth in the region.
Martin Porter, of Frack Free Greater Manchester, said there may be some short term jobs for locals but claimed most would be for international specialists in fracking.
He said the use of fossil fuels caused global climate change and locally it results in water contamination and the industrialisation of the countryside.
About 60 protesters camped on Barton Moss Road when test drilling for shale gas started at the site in November until they were evicted in March.