Juan Domingo and Eva Peron state limousine to be auctioned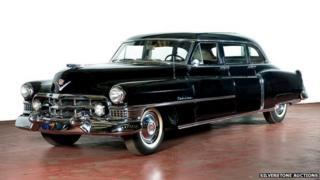 A state limousine used by former Argentine President Juan Domingo Peron and his wife Eva, who was known as Evita, is to be auctioned.
The 1951 Cadillac is expected to be sold for between £200,000 and £260,000 at auction in London in September.
It has previously been on long-term loan to the Eva Peron Museum (Museo Evita) in Buenos Aires in Argentina.
It is being sold by Silverstone Auctions along with a jewel from one of Mrs Peron's dresses.
Managing director Nick Whale said he expected "huge international interest" in the car.
"It's rare that a car with connections to some of the most important figures in history is offered on the market," he said.
Mr Whale said the car would go on display at Salon Privé motor show in London before its sale on 4 September.
Eva Peron's life story was most famously told in the Andrew Lloyd Webber stage musical Evita, which was made into a film in 1996 starring Madonna.
Ms Peron served as the First Lady of Argentina from 1946 until her death in 1952 and was regarded as a champion of the working class and women in Argentina.
She was the second wife of Juan Peron who was three times elected as President of Argentina, in 1946, 1951 and 1973.
He died of a heart attack in 1974 after only about a year back in power.