Thavisha Peiris murder: Man guilty of pizza man's 'frenzied' killing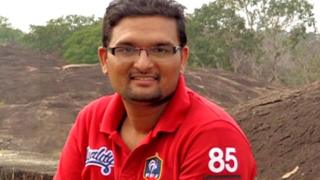 A man has been found guilty of murdering a pizza delivery worker who was making his last deliveries before moving to his "dream job".
Thavisha Lakindu Peiris, 25, was found stabbed in his car in Southey Crescent, Sheffield, on 27 October.
Shamraze Khan, 26, was convicted at the city's crown court. The judge said he would face life imprisonment.
Another man, 18-year-old Kasim Ahmed, of Main Road, Darnall, had pleaded guilty to murder on 7 July.
Mr Peiris, from Sri Lanka, was working as a Domino's Pizza delivery driver after graduating in IT from Sheffield Hallam University.
He had been trying to make what would have been his final delivery before starting his "dream job" as an IT consultant.
Following a two-and-a-half week trial, the jury returned its verdict after deliberating for 14 hours and 28 minutes.
Both men will be sentenced on Thursday afternoon.
Judge, Mr Justice Coulson said his task was now to decide on the minimum term to be served by Khan.
Det Supt Lisa Ray, of South Yorkshire Police, said: "Both of them were responsible for the murder and that's what the jury has found.
"My heart goes out to the family. They are many thousands of miles away, which must be very difficult for them."
It emerged during Khan's trial that Mr Peiris had asked to go home to eat at about 21:00 before he started work again for another branch of Domino's Pizza, but had agreed to make two final deliveries on his way home.
He left the restaurant at 21:50 GMT to make a delivery in Southey Crescent. When the customer called to say he had not arrived, colleagues set off to find him.
Mr Peiris was found covered in blood at the steering wheel of his car by a colleague, Mehrdad Mahfazi.
The jury was told he had bled to death following a "frenzied" knife attack by Khan, of Southey Crescent, Sheffield, and Ahmed, who were trying to steal his mobile phone.
The pair had carried out a knife robbery at Castle Market in Sheffield earlier that day, where they had stolen two phones.