Ben Blakeley guilty of Jayden Parkinson murder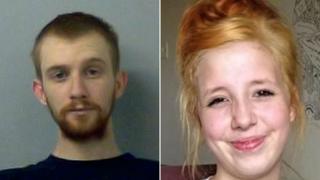 The "controlling" ex-boyfriend of pregnant teenager Jayden Parkinson has been found guilty of her murder.
Ben Blakeley, from Reading, strangled the 17-year-old and buried her in his uncle's grave in Didcot, Oxfordshire, last December.
Oxford Crown Court heard he had a history of violence and threatened to post naked pictures of Jayden online after their relationship ended.
He admitted killing her but denied murder. He will be sentenced on Friday.
Jayden's mum Samantha Shrewsbury burst into tears and walked out of court as the verdict was delivered.
Last argument
The jury has not yet reached a verdict on Blakeley's brother Jake, who denies preventing a lawful burial but has admitted perverting the course of justice.
The 17-year-old, of Venners Water, Didcot, told Oxford Crown Court he helped dig the graves but believed he was burying weapons in the field and then bodies of a cat and a dog at the graveyard.
During the trial, jurors heard Blakeley and Jayden had their last argument on a footbridge at a disused railway that runs from Didcot towards Upton.
Blakeley, of Christchurch Road, described grabbing Jayden around the throat with both hands a "million" times before and said he thought she was "joking" when she fell to the ground.
He told the court he dug two shallow graves, one in the countryside close to where he strangled her, and the second in the grave of his uncle, Alan Kennedy, at All Saints' churchyard in Didcot.
Jurors heard how Ben Blakeley was violent to previous partners, pushing an ex-girlfriend down the stairs when she was seven months pregnant because he believed the child was not his.
He repeatedly tried to strangle another girlfriend and threatened to "cut her up in the bath".
Naked video threat
Jayden ended her relationship with Blakeley on 21 November last year before she discovered she was pregnant with his child.
When she found out, homeless Jayden had to call him from the hostel because he had confiscated her phone.
The pair had a heated 45-minute conversation in which Blakeley said he was not the father.
He later threatened to put naked videos and pictures of Jayden, which he had on his mobile phone, on the internet.
She reported this to the police on 27 November and in her statement, she said: "I am terrified that he might send them everywhere."
She left the hostel on 3 December to meet Blakeley to discuss her pregnancy. Her body was found on 18 December.
IPCC probe
Police have said they know of no other British criminal case where an existing grave has been used to bury or hide a body.
Det Ch Supt Andrew Murray, from Thames Valley Police, said: "To try and hide that body in a pre-existing grave, well as far as we know, that's unique."
Thames Valley Police has refused to answer questions about how it handled reports about Blakeley until the conclusion of an Independent Police Complaints Commission inquiry into its response to Jayden's disappearance.
The Oxfordshire Safeguarding Children Board (OSCB) and representatives from the Oxford City and South Oxfordshire and Vale Community Safety Partnerships are combining a domestic homicide review and a serious case review into Jayden's death.
Both reviews automatically happen in cases where a child dies or has been seriously harmed in circumstances where abuse or neglect is known or suspected and is required by law.
The findings are due in 2015.