Fiaz Munshi jailed for 1997 Oxford arson child deaths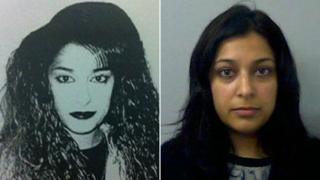 A woman has been jailed for 13 years for her part in killing two children in a revenge arson attack in 1997.
Fiaz Munshi travelled with seven others to Amjad Khan's house in Oxford after he broke off their relationship.
Petrol was squirted through the letterbox of the family home and Mr Khan's siblings Majid, 15, and Anum, eight, died in the resulting blaze.
Munshi, 38, of Oldham, was found guilty of manslaughter but cleared of murder.
In a victim impact statement, Amjad Khan said his life had "crumbled" and would "never be normal".
Mehfooz Akhtar, Majid and Anum's mother, said she had been through "inhumane horror and pain".
She said she had been sectioned for depression, was anorexic and had tried to take her own life.
"I constantly see my son engulfed in flames jumping from a window.
"They never got a chance to chase their dreams. I find myself calling out for my lost angels taken away from me so mercilessly."
She added: "I may be living and breathing but a big part of me died that night."
Munshi, of Manley Road, had denied being involved in the firebombing.
She had been in a secret relationship with Amjad but his family disapproved after he was convicted of a drugs offence, so he broke it off.
It was proved that, angered by this and tensions with his family, she conspired with others to set fire to the house in Magdalen Road.
In 1998, five men were convicted of the killings. A year later Munshi's sister, Riaz, was convicted of manslaughter.
Munshi was initially arrested in September 1997 but was released without charge due to insufficient evidence and flew back to Pakistan that December.
Just two days later, fresh evidence emerged.
The mother-of-four later returned on her passport to the UK in 2004 and Lancashire Police alerted Thames Valley Police the following year.
Due to a processing error, the information was not acted on until the Khan family asked for an update in 2012.
Det Insp Craig Kirby said it was a "genuine but serious" mistake and said he had "apologised personally" to the family for the eight-year delay in questioning Munshi.
'Day of reckoning'
On sentencing Munshi, Judge Justice Robin Spencer said: "It was you who had the greatest grudge towards the family.
"You were well aware of the more sinister plan of setting the fire."
He said her "simmering resentment" and anger towards the family was a motive.
"There's no doubt you knew how dangerous the fire was," he said, adding: "You left the country for Pakistan soon after the fire because the heat was on."
He added: "You've had years of freedom and family life you did not deserve - your day of reckoning has arrived."
In a statement after the sentencing, Shenaz Akhtar, the victims' sister, said: "It has taken 17 years for Fiaz Munshi to be brought to justice for the killings of Majid and Anum.
"This is despite members of the Oxford community who have known the whereabouts of Fiaz Munshi ever since she fled the UK."
She added the family could finally "grieve properly" and visit Majid and Anum's grave for the first time together.
She described the sentencing of Munshi as "the happiest day of our lives" and said Majid and Anum "will always remain deep within our hearts".