Lightning strikes cause South West and First Great Western train delays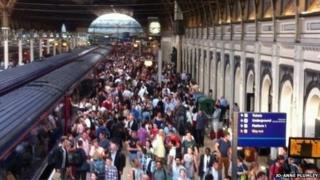 Lightning strikes have caused "major disruption" to rail services in England and south Wales.
Services between London Paddington and Reading, Swindon, Bristol and south Wales were affected by a strike at Twyford, Berkshire, at about 16:00 BST.
A strike in the Surbiton area of south west London also caused problems for passengers between London Waterloo and Surrey, and Exeter.
First Great Western and South West Trains operated reduced services.
First Great Western said some of its services would be cancelled or delayed at short notice, with delays of up to two hours between Slough and Reading.
South West Trains said it was necessary to "significantly reduce" its services having already experienced signalling problems at Waterloo, before the lightning strike at Surbiton.
'Gave up'
A statement on the company's website said: "Our busy rail network into London Waterloo is dependent on using the lines through Woking and Surbiton.
"The closure of the line, coupled with trains, guards and drivers being out of position, has resulted in disruption for the majority of the day.
"We will continue to work through the night to ensure that trains and train crew are in the correct positions to enable us to operate our full timetable from the start of service on Saturday."
Commuters at Paddington and Waterloo posted pictures on Twitter showing the stations looking congested.
Jo-Anne Plumley said her normal 30-minute journey from London Paddington to Reading was still ongoing after three hours.
"I gave up on Paddington and went to Waterloo where I'm now on a stopper train to Reading," she said.
A spokesman for First Great Western said services were starting to return to normal at about 21:00.
"We are running as many services as we can and we have also lifted ticket restrictions with alternative rail providers," he said.