Cancer campaign bus trip from Brighton ends at Berwick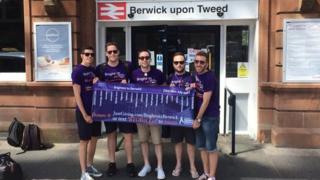 Five men who set out to travel the length of England on 19 local buses to raise awareness of pancreatic cancer have reached their destination.
Craig Rowley and four of his friends set off from Brighton on Wednesday and have now reached the Scottish border.
The 27-year-old from Essex had the idea after his mother was diagnosed with terminal pancreatic cancer last year.
Towards the end of the journey, he tweeted: "ONE HOUR TO GO! Help us reach 5K before we step off in Berwick!"
'Audacious trip'
Mr Rowley said his mother inspired him to make the journey after she found out she had the condition, and she told him to do something to make a change instead of "sitting round being miserable".
On Tuesday, he wrote on Facebook: "Rather than flowers, I opted to give mum a more unique gift before I set off on our trip.
"She wanted me to thank everyone for supporting us so far and she's proud of me and all the lads for taking on such an audacious trip."
The bus journey took the group to Tunbridge Wells in Kent, through London, and then on to Watford, Aylesbury, Milton Keynes, Leicester, Loughborough and Nottingham.
From the Midlands, they headed north via Chesterfield, Sheffield, Leeds, Whitby, Middlesbrough and Newcastle.
During the whole trip, the group said they planned to finish their journey at 13:00 BST on Saturday - and according to their Twitter feed arrived three minutes early.
On arriving at Berwick-upon-Tweed, Mr Rowley wrote: "WE MADE IT!"
He said: "We're tired and I'm a bit emotional but I'm so happy we took this trip."