Gatwick apology as baggage delays spark complaints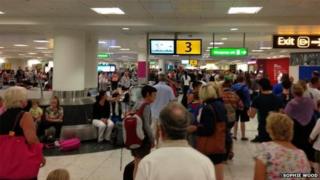 Gatwick Airport has apologised to hundreds of passengers after they were told to go home without their luggage because of baggage reclaim delays.
Many travellers took to Twitter to vent their frustrations, with some reporting delays of up to three hours for bags.
An airport spokesman said the delays were caused by "resourcing issues" involving the baggage handling company Swissport.
The airport said operations were back to normal by Sunday afternoon.
Passengers affected had flown with British Airways, Monarch, Thomas Cook and Thomson airlines.
They were told their luggage would be sent to their homes.
'Sorry for delays'
Among the passengers voicing their anger on Twitter was Oliver Webb, who tweeted: "Get your act together @Swissportuk. 3hr waits at #gatwick and no info to passengers. Shameful."
Sian Edwards tweeted: "@swissportUK - you need to sort out Gatwick, not enough staff for a Saturday in July - shocking!"
Sue Heffernan Smith tweeted: "I landed at Gatwick at 11.20pm and have just got on a train home. It is now 4.20am. Baggage fiasco."
Will Bower tweeted: "Pulling an 'all nighter' with my 700 friends at Gatwick North Terminal Baggage Reclaim, bring water."
Using its own Twitter account, Gatwick advised many passengers to go home without their bags. It said they should arrange for bags to be sent on before leaving the airport.
Gatwick's spokesman said each airline appointed its own "handling agent" to manage bags.
"Due to resourcing issues with the baggage handlers Swissport tonight, there have been issues and delays with passengers' luggage," he said.
"Gatwick has provided extra staff to help the airlines and their baggage handlers improve their service, as well as providing welfare and water for passengers waiting in the baggage areas, but we are sorry for the delays they have faced."
Swissport has not yet responded to requests for a comment.
'Back to normal'
Last month, Gatwick apologised after passengers faced delays of up to 90 minutes to reclaim their baggage, and blamed those problems on a shortage of staff at Swissport.
At the time, the airport said Swissport's licence required it to deliver bags from each flight "within 55 minutes".
On Sunday afternoon, a spokesman for the airport said: "Things are fine now. It was very much an overnight issue that carried on into the early hours of the morning.
"By about eight or nine o' clock, the situation started to return to normal and that has continued throughout the day. Everything is back to normal."