Hartlepool fishermen rescued after nine hours at sea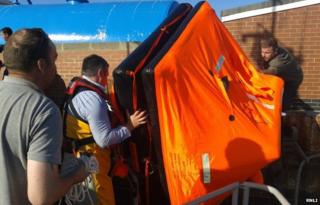 Two Hartlepool fishermen were rescued by a Dutch couple after spending nine hours adrift on a life-raft when their boat sank in the North Sea.
The men had been fishing 12 miles (19km) off the coast of Sunderland when their vessel hit a submerged object and quickly sank at 16:40 BST on Monday.
The pair were picked up by a Dutch couple who were sailing to Whitby after they spotted one of the men waving.
The couple said they had "never seen anyone happier" after saving the men.
They contacted Hartlepool RNLI, who transferred the fishermen from the yacht onto the lifeboat.
The fishermen and their life-raft were taken to Hartlepool Fish Quay.
Garry Waugh, from Hartelpool RNLI, said the men, who were shaken up, but otherwise OK, had been "very lucky".
The Marine Accident Investigation Branch has been informed.