Oldham lorry driver denies A57 road rage murder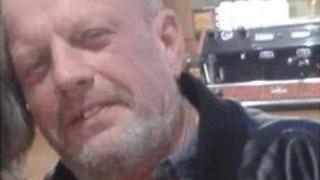 A lorry driver accused of using his vehicle to murder another motorist has denied being a "bully" behind the wheel of his 17-tonne truck.
The body of Trevor Allen, 56, from Salford, was found near his van on the A57 Manchester Road, Rixton, near Warrington, on 15 February.
Mark Slater, 47, of Oldham, denies deliberately running Mr Allen over in a road rage attack.
He admitted causing the victim's death but told the jury he did not see him.
Chester Crown Court was told Mr Allen had got out of his Citroen Berlingo van and stood in front of the DAF truck and trailer driven by Mr Slater while driving on the A57.
'Raging bull'
The defendant claimed he was involved in an "overtaking session" with Mr Allen, who had thrown coins at the window of his cab.
Mr Slater, of Hillside Avenue, told the jury he simply did not see the victim standing in front of his vehicle.
Ian Unsworth QC, prosecuting, said Mr Allen was wearing a high visibility jacket and it was "obvious" he was standing in the road.
He accused Mr Slater of being "a big man behind the wheel" and "bully" in his lorry on the A57.
The court heard the lorry's tachograph showed it braking sharply before the incident and Mr Slater "flooring" it to its maximum 54mph, exceeding the road's 40mph limit.
Earlier in the trial, the jury heard of two previous alleged road rage incidents involving Mr Slater.
One motorist described him as a "raging bull" on the M62 in January last year.
The incident was recorded on a "dash cam" and showed Mr Slater kicking and punching the other vehicle.
The jury has retired to consider its verdict.