Gatwick Airport PCSO guilty of stealing from passengers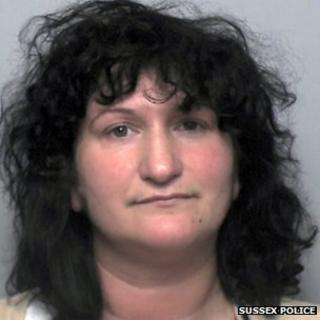 A former Sussex PSCO has been found guilty of stealing from passengers while on duty at Gatwick Airport.
Alexis Scott, 39, of High Grove, London, was accused of taking the money from multiple passengers in April 2013.
She was found guilty of six counts of theft and one count of misfeasance - the performance of a legal act in an illegal way - at Canterbury Crown Court.
Scott was found not guilty of one count of theft. She was remanded in custody.
A sentencing date has not yet been set.
Scott was suspended by Sussex Police when the investigation began and then dismissed for gross misconduct after a disciplinary hearing in July 2013.
Under her hat
During the trial, the court heard Scott had targeted long-haul passengers at the North Terminal.
Passengers said they were approached at the departure gate and told they could not take more than £1,000 in cash out of the country, the court heard.
They were then told they could claim it back when they returned, police said.
Scott took £3,000 from a woman who was travelling to Turkey that was intended to help pay for an operation and a wedding, jurors were told.
The court heard she put the cash in her hat before heading back to the police station to remove it.
She was found not guilty of the theft of £1,500 from one passenger travelling through the airport.