North West Fire Control 'puts lives at risk', FBU claims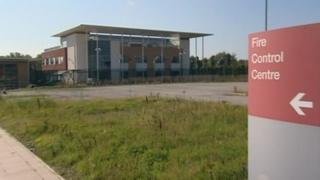 The Fire Brigades Union (FBU) has claimed lives are being put at risk because of "failings" at the new North West Fire Control centre.
The union said it was "inundated" with daily complaints about the computer system crashing and contact being lost with mobile fire crews.
The centre opened in May and answers 999 calls for Greater Manchester, Lancashire, Cheshire and Cumbria.
Greater Manchester Fire Service said there were "no significant issues".
Control centre 'successful'
The FBU said there had been a series of problems at the Warrington-based centre, including one incident where a fire crew from Carlisle was sent to a fire near Bolton.
Gary Keary, secretary for the Greater Manchester branch, said: "I've been inundated on a daily basis with complaints from operational crews who are suffering from the failings of this control room.
"One of the most frightening from our point of view is operational crews not being able to contact control once they are mobile - this is potentially life threatening."
He said "technology is crashing and freezing on a regular basis" and operators are "keeping the control [centre] afloat".
'No significant issues'
Almost 10,000 calls have been answered and emergency crews have been dispatched to life critical incidents within 15 seconds of a call being received, Greater Manchester Fire and Rescue Service said.
A spokeswoman for the service said: "The North West Fire Control is successfully handling all calls and mobilising all resources.
"We would like to reassure the public that there have been no significant issues... and there is no need to be concerned."
Merseyside Fire and Rescue Service opted out of the regional centre in favour of a Joint Control Centre with Merseyside Police, to retain jobs in the area.
Emergency call handing staff are expected to move into the centre at the fire service's headquarters in Bootle later this year.