Norfolk bikers fear A11 'cheese-slicer' wire barrier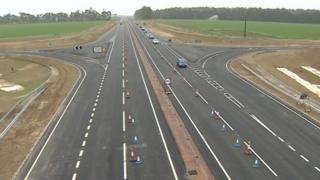 A leading motorcyclists' group has condemned "dangerous" wire crash barriers on a new section of the A11 road in Norfolk and Suffolk.
Wire crash barriers on the Elvedon bypass have been nicknamed "cheese-slicers", Paul Milner, vice-chairman of Norwich Advanced Motorcyclists, said.
Riders on two wheels do not have the same protection as a driver in a four-wheeled vehicle, he said.
The Highways Agency said the barriers complied with approved standards.
The barriers have been installed on a central section of the new nine-mile (15km) section of the A11 between Thetford and Barton Mills due to open fully later this year.
Best for conditions
Mr Milner said: "They're very dangerous as far as motorcyclists are concerned because riders have less protection on two wheels than anyone in a four-wheeled vehicle.
"Holland, Norway and the Republic of Ireland are introducing legislation to ban this type of crash barrier."
His organisation feared that motorcyclists could be severely injured if they hit the barriers in crashes caused by wet or foggy conditions on this section and would prefer conventional crash barriers.
The Highways Agency said: "This section of the A11 is generally very straight and there has been no significant accident history regarding motorcycles.
"Wire rope safety fence has been installed because it is a compliant, approved system and is deemed to be an appropriate safety measure for this location."
Kevin Allen, project manager for road network analysis and safety at Norfolk County Council, said the wire road barrier was best for the conditions.
He said the fence would absorb the energy of a severe collision reducing vehicle damage, although the county council was not responsible for introducing this type of safety barrier on the A11 or any other road in the county.