Eastbourne pier fire: How do we protect our Victorian piers?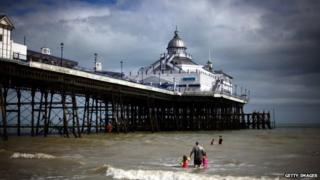 England has about 30 remaining Victorian piers that have undergone varying amounts of restoration down the years.
But following the fire at Eastbourne Pier on Wednesday, which destroyed the arcade and a number of other buildings, and fires in recent years at piers in Fleetwood, Hastings and Brighton, what can be done to protect these historical structures?
Ryde Pier, the Isle of Wight
Ryde Pier is the historical link between Portsmouth and Ryde, on the Isle of Wight.
The pier celebrated its 200th birthday on Sunday and its sturdy concrete and steel pier head and cast iron and hardboard timber promenade mean the Grade II-listed structure is unlikely to succumb to flames, according to its owners.
"It's not the piers themselves that are the fire risks - it's usually the buildings they put on them," says Sean Millward, head of operations at Wightlink, which operates the pier.
"We have regular fire risk assessments and the pier is manned 24/7 so it would be very difficult for it to be destroyed by fire."
The pier underwent a £3.5m restoration in 2010 which guaranteed it for a further 50 years but Mr Millward said he hoped it would see in at least another two centuries.
Herne Bay Pier, Kent
"Fires are something we dread," says Andrew Newell, the founder of the trust that is campaigning for the restoration of Herne Bay Pier.
The Victorian pier was partially destroyed by fire and a storm in the 1970s.
Mr Newell said he believes it is important pier owners think carefully about their attractions to ensure fire risks are minimised.
"A lot of piers are entertainment venues," he said.
"It's a 1960s idea to have arcades on there, for example.
"But unfortunately, these days, a lot of the machines in them require electricity to run - which are fire risks.
"I think pier owners have got to seek to do other things with their piers and downgrade the electrics on them - or seek to refurbish them with fire-retardant materials."
The trust itself is hoping Herne Bay will be refurbished as a pier-marina.
Southwold Pier, Suffolk
As you would expect in a seaside town popular for its image of genteel holidaymaking, Southwold's pier is far from standard.
"We sell a lot of fish and chips and ice cream but we don't do kiss-me-quick hats," said Andy Watts, the pier's business development manager.
The pier is regularly named as a top visitor attraction by tourism groups like Trip Advisor and Lonely Planet, partly thanks to its mix of cafes, shops and an arcade which contains quirky machines designed by inventor Tim Hunkin.
"We get around a million visitors over the course of a year," Mr Watts said.
Despite this, he believes wooden piers like Eastbourne - and Southwold itself - are at risk of fire.
"You cross your fingers and hope for the best," he said. "Everything here is tested and wherever applicable we have used fire-resistant materials but I'm sure they did that at Eastbourne as well.
"I think they just got very unlucky."
Gravesend Town Pier, Kent
Gravesham Council owns Gravesend Town Pier - the oldest cast iron pier in the world, built in 1834.
"I have lost count of the number of piers that have caught fire over the years," said a spokesman.
"Being cast iron, our pier is obviously not likely to catch fire. It was cheaper to make piers with wood but it does tend to make them more flammable."
He added the buildings along the pier were fitted with modern interiors and a sprinkler system to make them as secure as possible.
Hastings Pier, East Sussex
Some piers have suffered so much it is a wonder they are still standing.
Hastings Pier is one example. Built around the same time as Eastbourne, the buildings on the Victorian Pier were destroyed by fire in 2010.
"Before the fire, the pier had already been closed for two years for health and safety reasons and one key reason the fire was so destructive was that the fire brigade were not permitted to go on to the structure," said chief executive of the Hastings Pier Charity, Simon Opie.
The charity is now overseeing a £13.9m rebuild, largely funded by the Heritage Lottery.
"We are putting in means of being able to access the end of the pier in the event of a fire - and also ways of allowing us to evacuate people," said Mr Opie.
"Often piers weren't built to carry buildings so many of the buildings that were built on them were lightweight and often flammable.
"One of the challenges of rebuilding Hastings is to create a structure that can carry more robust, resilient materials."
However, Mr Opie said he was convinced a restored pier could be of benefit to a seaside town.
"They are a really important aspect of the heritage of seaside towns," he said.
"People have an enormous sense of affection for them. We have a very deep-seated desire to be able to walk out to the sea and look back at the land."