Runcorn statue of WW1 hero Thomas 'Todger' Jones unveiled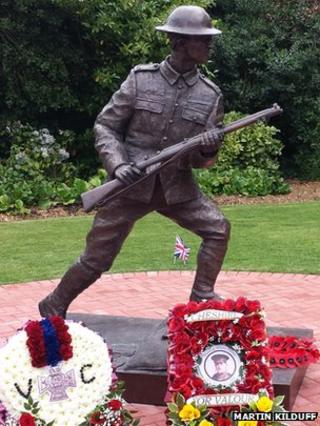 A community-funded statue of a soldier who was awarded the Victoria Cross in World War One has been unveiled.
Thomas 'Todger' Jones was given the medal for killing a sniper and capturing 102 soldiers single-handedly in the Battle of Morval, in 1916.
The bronze statue of Pte Jones has been placed in Runcorn Memorial Gardens following a local fundraising appeal.
The appeal's secretary Martin Kilduff said it was a tribute to all those who have served and returned from war.
He said around £50,000 had been raised to pay for the statue, which was inspired by the fact there nothing in the town to commemorate those who came back from the war.
"This isn't just about 'Todger' Jones and his heroic act in the First World War, it is to honour every serving man and woman that has returned from conflict only to feel forgotten.
"It is a mark of gratitude for the courage and bravery that they have given for their country."
'Heavy barrage'
A newspaper report about Pte Jones's conduct stated his medal was for his "most conspicuous bravery".
"He was with his company and noticed an enemy sniper," it reads.
"He went out and though one bullet went through his helmet and another through his coat, he returned the sniper's fire and killed him.
"On reaching the enemy trench he found several occupied dug-outs, and single-handedly he disarmed 102 of the enemy, including three or four officers, and marched them back to our lines through a heavy barrage."
Todger was born in Runcorn on Christmas Day in 1880 and spent his whole life living in the town.
The statue has been placed opposite the cenotaph in the memorial gardens, which bears the name of Pte Jones's younger brother, who died after being shot by a sniper.
The unveiling of the statue was preceded by a parade by the Cheshire Regiment Association, Halton and Widnes British Legions, Runcorn Veterans and Navy Associations, the Heroes of the Somme military flute band and local school and scout groups.