Widnes dog attack on boy, 4, 'heartbreaking', says dad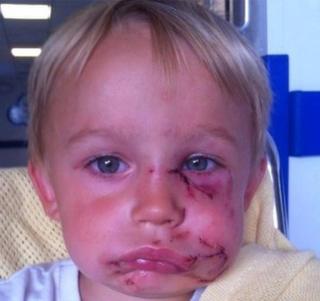 A four-year-old boy was left with horrific facial injuries and needed surgery after being mauled by a dog.
Riley Fox was playing in a neighbour's garden in Cunningham Road, Widnes, in Cheshire, when he was bitten on the face.
Cheshire Police said the animal has been put down and it is investigating if any criminal offences took place.
Riley's father Tony Fox said his son was recovering well after treatment at Alder Hey Children's Hospital.
'Face hanging off'
The dog was a cross breed and was not believed to be an illegal or dangerous breed of dog, police confirmed.
Mr Fox said he was at work when he was told of the attack on 25 July.
He described arriving home to find his son hysterical with his "face hanging off".
"It is the worst thing you can ever think of seeing - your child being bit by a dog," said Mr Fox.
"Every time you look at him you can see a reminder of it.
"It's heartbreaking. I'm just glad it is not worse."
Riley's surgeon said they need to wait to see how his wounds heal to see if he needs any further surgery, Mr Fox said.
'Tougher rules'
He said the owner of the dog had apologised and was "mortified".
Riley's father said tougher rules need to be in place for dogs.
"Something needs to be done. Any dog can turn in this heat. It doesn't need to be a dangerous dog or a nasty one," he said.
"It is hot, we can feel it ourselves, so we can only imagine what animals are feeling."
Mr Fox criticised the ambulance service for taking 25 minutes to arrive to attend to his son.
A North West Ambulance Service spokesman said: "We are sorry to hear of this very upsetting incident and understand how distressing it can be waiting for an ambulance to arrive.
"We are conducting our own investigation and we would urge the family to contact us in order to share our findings."