Craig Hayler charged with Ford Open Prison escape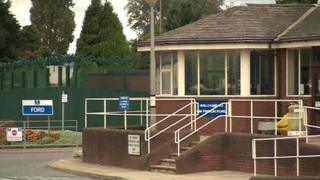 A man has been charged with absconding from Ford Open Prison.
Sussex Police said Craig Hayler, 30, was charged with walking out of the jail in West Sussex in March. Mr Hayler was arrested on Southampton last Tuesday.
He was charged with being unlawfully at large and three other offences.
In June, Sussex Police said 89 prisoners were missing from Ford. The number of missing inmates currently stands at 83, officers said.
Det Insp Dave Wardley-Wilkins said Mr Hayler also faced charges of making off without payment in Worthing in April, a burglary in Worthing in May, and a burglary in Hedge End, Hampshire, in July.