RideLondon cyclist Kris Cook's fund raises £30,000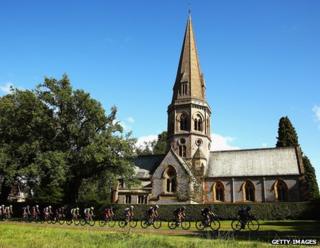 More than £30,000 has been donated to the charity cyclist Kris Cook was fund raising for when he died during the RideLondon event.
Mr Cook, 36, suffered a cardiac arrest at Newlands Corner, near Guildford, during the event on Sunday.
People have been making donations to Woking Hospice via Mr Cook's online fundraising page.
His girlfriend Nicola Tait described him as her "soul mate" and "beautiful boy" in a post on Facebook.
'Words of support'
On Tuesday she laid flowers by the road at Newlands Corner where he fell ill.
Earlier she wrote: "Yesterday was an absolute blur. I have received so many words of support over the loss of my beautiful boy Kris Cook who I absolutely loved and adored and wanted to spend the rest of my life with.
"I can't explain how much he did for me, he helped me to find myself again and he treated me like a princess, every single day of my life.
"We had so many fun things to do with our with lives it made life exciting again. I now have the unfortunate journey of getting on with my life without this amazing soul by my side."
Mr Cook, who was from Woking, Surrey, was treated by doctors after he collapsed at Newlands Corner at about 13:00 BST and taken to hospital but pronounced dead later in the afternoon.
Thousands of people took part in the public bike ride, which was cut from 100 to 86 miles after weather warnings.
Mr Cook's mother said "he had died doing something he loved".