Laser pointed at Midlands Air Ambulance helicopter over Warwick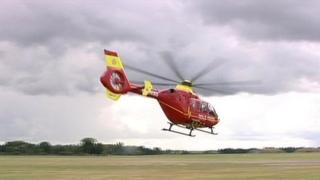 A laser beam was pointed at an air ambulance while it was transporting an injured van driver to hospital.
The helicopter was going over Warwick at a height of more than 1,200ft on Monday evening when the beam from an unknown source was shone at it.
On board trauma doctor Nick Crombie said the pilot was highly experienced and "dealt with it" but it could have led to temporary blindness.
Midlands Air Ambulance said if it would prosecute the perpetrator if found.
Dr Crombie said: "Had the laser caught anyone's eye albeit briefly, it can lead to blindness for at least 10 minutes and a loss of spatial awareness.
"Had we not taken action and avoided being been dazzled, it would have prevented us landing until the visual effects had settled, delaying treatment of the casualty."
The helicopter successfully transported the patient to the University Hospital Coventry and Warwickshire where he was treated for multiple pelvic and leg injuries on Monday.
Four others involved in the two-vehicle crash on the A429 at about 20:20 BST were taken by land to the same hospital.
The Midlands Air Ambulance covers Gloucestershire, Herefordshire, Shropshire, Staffordshire, Worcestershire and the West Midlands.