V Festival attracts thousands to Staffordshire and Essex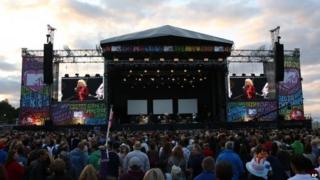 Thousands of people have enjoyed a music-packed weekend at V Festival's twin sites in Staffordshire and Essex.
More than 90,000 attended this year's event at Weston Park, and about 180,000 at Hylands Park in Chelmsford.
Acts included Nile Rodgers and Chic, Blondie and The Killers.
Three people at Weston Park required urgent medical help on Saturday after taking blue tablets, known as Blue Ghost.
Almost 500 people at V Festival in Weston Park have been treated by paramedics and 10 have been taken to hospital, paramedics say.
However, the number seeking medical treatment is lower than last year when more than 1,300 people sought help.
Fans at Hylands Park were disappointed when Welsh rock band the Manic Street Preachers cancelled their appearance when their flight from the Sziget Festival in Budapest failed to take off.
However, the band said they would make it in time to play at Weston Park.