Surrey and Essex sloping platform risk 'not recognised'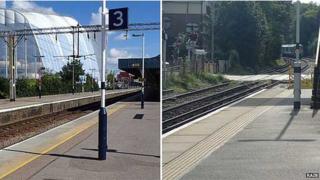 The rail industry does not recognise the danger of sloping platforms, a report into the falls of a child in a pushchair and a wheelchair user found.
The Rail Accident Investigation Branch (RAIB) was investigating why Southend Central and Whyteleafe stations had platforms "sloping towards the track".
It found many similar incidents had been recorded as being the fault of the passengers involved.
Network Rail said it was looking at better ways of warning passengers.
A baby in the pushchair had been left parallel with the track at the Surrey station on 17 September 2013.
It "narrowly missed the live conductor rail", said an RAIB spokesman.
Broken hip
The mother and other passengers jumped onto the track to rescue the child, who was left with minor injuries.
In a similar incident in Southend in Essex, a 71-year-old woman in a wheelchair suffered a broken hip.
She had been positioned mid-way along the platform when she started to roll forward and she fell onto the track.
A worker at the station and other passengers rescued her from the line.
The RAIB recommended Network Rail and the Association of Train Operating Companies carry out work to manage the risks of platform slopes.
"The industry had not recognised the part that sloping platforms had played in the incidents," the report said.
'Identify highest risk'
The report also said the railway industry had generally recorded previous similar incidents as being due solely to errors by the people concerned.
A Network Rail spokesman said: " We are focusing on how we can tackle the issue of platform slopes and provide better warnings to passengers."
He said Whyteleafe station had been built in 1900 with the platform sloping towards the track, "probably to help water drain away".
"Network Rail is now building a database of stations with platform slopes and will use this to identify the highest risk locations and actions that we can take to reduce the risk," he said.