Badger cull court hearing sees no verdict yet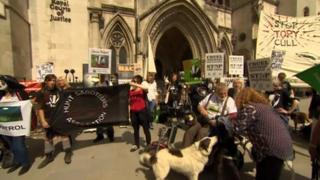 A High Court hearing to decide whether this year's badger cull should go ahead without independent monitoring will give its judgement at a later date.
The Badger Trust argued the "controlled shooting" in Gloucestershire and Somerset should only take place with independent observers overseeing it.
Defra lawyers said the monitoring was only intended to run in the first year.
Ministers believe killing badgers will curb TB in cattle but opponents say shooting is not the best way to do it.
'Beyond moving goalposts'
The Department for Environment, Food and Rural Affairs (Defra) said it would not comment while the High Court case was in progress.
"However, we have always been clear that the Independent Expert Panel's (IEP) role was to oversee the six-week pilots in the first year of the culls," a spokesman said.
"Overseas experience shows a comprehensive strategy is the way to make England disease free... [which] includes cattle movement controls and vaccinating healthy badgers."
David Wolfe QC, for the Trust, said the IEP had concluded the controlled shooting "was not effective or humane".
Mr Wolfe accused Liz Truss, current Defra Secretary, of breaching a "legitimate expectation" that independent experts would monitor the whole pilot cull until it was decided whether or not to roll it out more widely.
He told Mr Justice Kenneth Parker, sitting in London, that the government had broken a promise, thus threatening to undermine public trust in future assurances given by government departments when controversial issues were raised.
"The secretary of state has gone beyond simply moving the goalposts [and] she is now seeking to sack the independent referee."
Scores of anti-cull supporters, many with faces decorated with badger stripes or wearing badger masks and costumes, demonstrated outside the Royal Courts of Justice during the one-day hearing on Thursday.