Belgian refugees build British family after WW1 escape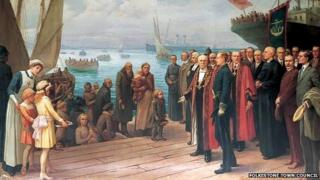 An estimated 250,000 refugees arrived in Britain from Belgium at the start of World War One. Among them were widower Louis Bareau and his two children, aged 12 and 13. So what became of the Bareau family and their fellow Belgian exiles?
Louis Bareau's grandson, retired banker Peter Bareau, set out to discover his family's story as a way of commemorating their arrival, 100 years ago, by boat in Folkestone.
His three-year project mapped the Bareau family journey from artisan roots in Belgium to middle-class prosperity in England.
"I thought it was something I could do for the family, and I thought that the celebration of their arrival in Folkestone would give it life," he said.
Louis' father, Emile, turned out to have been a village policeman in Horion, not far from Liege, who was descended from soldiers and knife repairmen.
---
Emile Bareau (1842-1915) was born near Liege in Belgium, the son of a soldier who became a gendarme. Emile was a village policeman in Horion. He and his wife Marie had eight children, six of whom survived into adulthood.
---
"Louis took the decision, probably aged 19, to move from Horion to Antwerp to do his military service and then decided to stay," said Peter, 72, who lives in East Horsley, Surrey.
"He was a commodity broker specialising in products from the Belgian Congo and had close relationships in the London markets.
"It was those contacts who supported him and succoured him when he arrived in Britain."
Four generations of Bareaus
Emile 1841-1915: Policeman in Horion, Belgium
Louis 1868-1925: Broker born in Horion, fled to England in 1914
Paul 1901-2000: OBE. Banker and journalist. Born in Antwerp, died in Surrey
Peter 1942-: CBE. Banker born in Warwickshire, lives in Surrey
Louis' son Paul, the 13-year-old who came with him to Folkestone, told the family years later his father withdrew as much money as he could in gold coins before they fled.
They travelled on a milk cart with three suitcases, passing through Bruges as the British Army was travelling the other way towards Antwerp.
They eventually arrived in Ostend and boarded a boat for Folkestone.
---
Louis Bareau (1868-1925) Born in Horion, Belgium he became a commodity broker in Antwerp before fleeing to Britain with his children, Paul and Simone. He carried on his business life in London and married again in 1916. He is buried in West Norwood Cemetery.
---
The first refugee boats arrived in Folkestone on 20 August 1914, and until the beginning of October, between 250 and 1,500 refugees arrived every day.
Local people formed committees to welcome the refugees and provide them with food, accommodation and clothing.
The refugees were dispersed across England and to Wales, where at least 5,000 settled. A large number went to London, where several camps were set up including two at Alexandra Palace and Earls Court.
One of the largest communities in London was in Twickenham, where 2,000 Belgians worked at the Pelabon factory making shells for the Belgian army.
Paul and his sister, 12-year-old Simone, stayed in a boarding house in Folkestone while Louis went to London to meet his business associate Harry Morgan, who gave him a job and initially put the family up in his home in Streatham.
The Bareaus were unusual among the Belgian refugees in that, after the war, they stayed on in Britain while more than 90% took up the offer of free passage to return home.
"Clearly they settled in very well," said Peter.
"Within two years Louis married an Englishwoman and my father was put into Streatham Grammar and then Dulwich College.
"That was all gratis, because everybody was rallying around the 'poor little Belgians'."
Paul went into banking and studied for a degree at the London School of Economics at night. His career alternated between banking and journalism, and he worked for the Financial News and the News Chronicle.
He was the press officer for the British Treasury delegation, led by Lord Keynes, that took part in negotiations in Washington for the Anglo-American loan after World War Two.
He was a financial commentator and adviser to companies and became an OBE.
Paul and his sister Simone, who both settled in Surrey, each married twice and had seven children between them.
---
Paul Bareau (1901-2000) Born in Antwerp and arrived in Folkestone on a boat from Ostend in August or September 1914 as a refugee from German-occupied Belgium. Became a banker, journalist and City commentator. Became naturalised British in 1923.
---
Paul's first marriage ended in divorce but he had a son, Barnaby, whose existence was unknown to the four children of his second marriage, Juliet, Michael, Suzanne and Peter.
"He was a family secret - we never heard about him until after he died," said Peter.
Barnaby worked on tea and rubber plantations in Ceylon and later in Malaya where he died in 1955.
Paul and Simone's children, the great-grandchildren of Emile the Belgian village policeman, have 20 children between them, 39 grandchildren and one great-grandchild.
Reunion organised
Peter, the youngest of Paul's children, also worked in international banking and for six years before he retired was chief executive of National Savings and became a CBE.
One sister, Suzanne Bareau, is a professional violinist, while the other, Juliet Wilson-Bareau, who lives in north London, is an author, curator and expert on artists Goya and Manet. Their brother Michael, an engineer, died in 2011.
Peter has organised a reunion in Folkestone on 20 September which will bring together about 45 of Louis' descendants and their families and has put together a scrapbook of the story.
---
Peter Bareau (1942-) Born in Warwickshire, where the family had gone to escape the London Blitz. Retired international banker who was appointed CBE on 2002 for services to National Savings. Lives with his third wife in East Horsley, Surrey.
---
The English Bareaus keep in touch with their Belgian cousins and Peter's research has involved several trips abroad to see the places where his ancestors lived.
"Although building a family tree is interesting, and it is good for people to map themselves on it, it is the stories you really want," he said.
"I think the family was of good stock even it they didn't have what appeared to be highfalutin' jobs.
"My grandfather moved up in the world by moving to Antwerp and then to London and he created these opportunities for the rest of us.
"They would never have been there if they hadn't taken that boat."