Protein Masters drug gang jailed for 105 years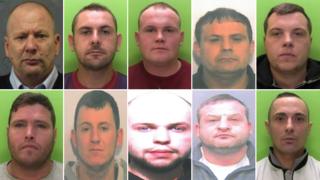 A gang that used a health supplements shop as a front to manufacture and supply drugs has been jailed for a total of more than 100 years.
The shop in Sutton in Ashfield, Nottinghamshire, was a base to produce amphetamine and store cocaine.
The group of 11 men, from Nottinghamshire, Derbyshire, Liverpool, Manchester and Yorkshire, admitted or were convicted of drugs related crimes.
Ten of them were jailed for a total of 105 years between them.
An 11th man, Joshua Patchett, of Awsworth, Nottinghamshire, will be sentenced next month.
The court heard Anthony Donnelly was the leader of the criminal gang, and ran his criminal enterprise from his shop called Protein Masters.
The conspiracy was first uncovered when a 22lb (10kg) pack of amphetamine was discovered in a van stopped by police near Doncaster last year.
Officers then raided the Protein Masters shop where they found evidence of the production of amphetamine.
Investigations led detectives to associates of Donnelly and Ben Mullins, from Ripley, Derbyshire, who were found with large quantities of drugs.
Michael Lawrence, of Stanton Hill, Nottinghamshire, was found with 6.6lbs (3kg) of high purity cocaine worth an estimated £600,000 which was bought in Humberside.
And Andrew Brimble, of Tibshelf, Derbyshire, was caught with 150lbs (67kg) of amphetamines worth about £1.3m as he drove through Pinxton, Derbyshire.
Det Ch Insp Alan Mason, of the East Midlands special operations unit, said: "The amount of drugs there clearly identified to us that these were major players within the distribution of drugs in the East Midlands."
Mullins admitted production and supply of amphetamines and selling cocaine and was jailed for 18 years and eight months.
Donnelly, who was found guilty of conspiracy to supply amphetamines, was handed a 12-year term.
His Honour Judge Sampson said the men "were trading in pernicious" drugs" that "destroyed families and blighted lives".
The other men, and one woman who was jailed at an earlier hearing, had roles in the gang such as couriers or making arrangements for the supply of drugs.
---
The gang of ten
Daniel Robinson, 30, of Paling Crescent, Sutton-in-Ashfield. Convicted of production of amphetamine and conspiracy to supply cocaine, admitted conspiracy to supply amphetamine. Jailed for 17 years
Craig Donnelly, 23, of Barker Street, Huthwaite, Nottinghamshire. Admitted conspiracy to supply amphetamine, found guilty of production of amphetamine and conspiracy to supply cocaine. Jailed for 17 years.
Ben Mullins, 33, of Church Street, Ripley, Derbyshire. Admitted production and conspiracy to supply amphetamine and conspiracy to supply cocaine. Jailed for 18 years and eight months
Richie Fido, 29, Broad Lane, Brinsley, Nottinghamshire. Pleaded guilty to production and conspiracy to supply amphetamine. Jailed for five years and four months.
Anthony Donnelly, 31, Southwell Road, Mansfield, Nottinghamshire. Convicted of conspiracy to supply amphetamine. Jailed for 12 years.
Edward Taylor, 30, of Ringlow Park, Swinton, Greater Manchester. Admitted conspiracy to supply amphetamine. Jailed for four years and four months
Andrew Brimble, 48, Staffa Drive, Tibshelf, Derbyshire. Jailed for four years after admitting conspiracy to supply amphetamine
Charles Corke, 41, Hillcrest Drive, Huyton, Merseyside. Convicted of production of amphetamine. Jailed for nine years
Paul Critchlow, 47, from Humberside but no fixed address. Found guilty of conspiracy to supply cocaine and jailed for nine years
Michael Lawrence, 25, Victoria Street, Stanton Hill, Nottinghamshire. Admitted conspiracy to supply cocaine and jailed for nine years
---