Trains disrupted as Kemble to Swindon redoubling work ends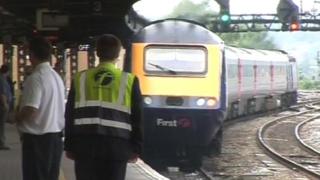 Rail travellers have been warned of long delays over the weekend as £45m of work to redouble the line between Swindon and Kemble is completed.
Railway lines will be closed with buses offered as replacements around parts of the west country and further afield.
First Great Western has advised that some journey times could be delayed by up to 75 minutes as a result.
Rob Mullen, a manager for the firm, said the "vital" works would offer many improvements for future services.
The project to add an extra track to the 12.5 miles (20km) of single track between Kemble in Gloucestershire and Swindon, Wiltshire, was first approved in 2011.
Fifty years earlier, the previous second track was removed as a cost-saving measure by British Rail, which led to a bottleneck between Cheltenham, Stroud, the Cotswolds and London.
On Saturday and Sunday:
The railway will be closed from Swindon to Bristol Parkway
The railway line will be closed between Swindon and Didcot Parkway
The railway line will be closed between Swindon and Gloucester
The Transwilts route; Swindon to Chippenham and Chippenham to Westbury via Melksham will be closed
The line between Hereford and Worcester Shrub Hill will be closed for rail improvement work
In some cases services will be diverted, or replacement bus services offered or some passengers may need to change trains.
Mr Mullen said: "These are vital infrastructure works to help pave the way for increased capacity and reduced journey times, and better performance and punctuality that electrification and new electric trains will bring for future services.
"We have worked closely with our colleagues at Network Rail to keep disruption to a minimum."