Chinese sky lantern code launched after Smethwick fire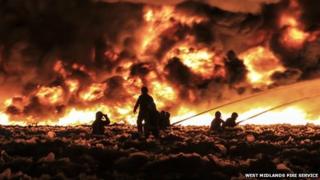 The sale and use of sky lanterns must change to make them safer, according to a new code of practice backed by the government.
A fire in the West Midlands last year, thought to have been started by a lantern, caused damage totalling £6m and put three firefighters in hospital. It led to calls to ban lanterns.
New guidance has been issued by the Trading Standards Institute (TSI).
A spokesman said it was designed to help prevent fires and other damage.
At its height, more than 200 firefighters tackled the blaze at a recycling plant in Smethwick in June 2013, involving 100,000 tonnes of plastics.
Phil Hales, deputy chief fire officer at West Midlands Fire Service, said: "Following the Smethwick fire the ideal is that sky lanterns are not made, sold or used.
"However, we are realistic and a code of practice is a welcome step in the right direction."
'Minimise the risks'
Five months later, Hereford and Worcester Fire Service said it believed a fire that damaged about 50 caravans near Tewkesbury was also started by a Chinese lantern.
Part of the TSI guidance is designed to make sure the lanterns only return to the ground after the heat source is extinguished.
Its advice will go to manufacturers, importers, distributors and retailers "to help minimise the potential risks", said TSI chief executive, Leon Livermore.
It says shops should warn the lanterns were only to be launched by adults not under the influence of alcohol.
Further advice recommends people have a fire extinguisher or water nearby and inform air traffic control if within 10 miles (16km) of an airfield or airport.
Several retailers, including Poundland and Tesco, have stopped selling sky lanterns in the last 12 months.