Ceop chief Peter Davies given 'management advice' after bullying claims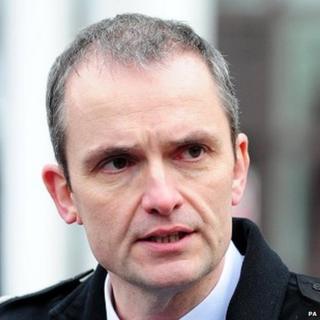 A police chief has been given "management advice" following claims of bullying and an investigation into how he treated staff.
Peter Davies was investigated while he was seconded as the chief executive of the Child Exploitation and Online Protection Centre (Ceop).
Mr Davies said he had co-operated fully, accepted the advice and has "reflected on his management style".
He has since returned as assistant chief constable at Lincolnshire Police.
Lincolnshire Police said the allegations were made in May 2013 and were "in relation to his management style".
"The matter was the subject of a thorough investigation, which was conducted by Sussex Police, with which Mr Davies co-operated fully," a statement said.
"At the conclusion of the investigation the Chief Constable of Lincolnshire Police decided to resolve the issue through management advice, which was accepted."
'Water under bridge'
Mr Davies told BBC Radio Lincolnshire there was a limit to what he could say but said leaks in the media last year were "upsetting and difficult to deal with".
"Out of respect of the confidentiality that should go with these process there's a limit to what I can say," he said.
"What I can say is that it is always worth reflecting on your management style when someone is not happy with it.
"I'm reflecting on it and have accepted the advice that my chief constable gave me.
"This is water under the bridge for me and I'm moving on and just getting on with the process of making the best contribution I now can to the chief officer's team at Lincolnshire Police."
The secondment to Ceop was for three years.
Mr Davies returned to Lincolnshire Police in June.