East Anglia's World War Two airfields photo project begins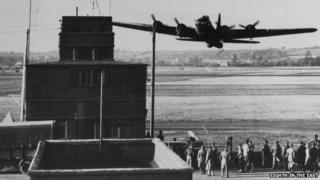 An appeal has been made for photographs of East Anglian airfields used by the United States Air Force as part of a project to record their history.
Some of the airfields have become airports, some have new commercial uses, while others have become fields.
Eighth in the East has been given £500,000 by the Heritage Lottery Fund to document the history of 70 sites.
The Now and Then photo project aims to compare World War Two photographs with current ones.
David Cain, project manager, said: "We want people to engage with their local landscape - to have a clear connection via local history.
"It's mainly about photographing buildings, but while some buildings have been transformed for use by private companies such as airports or business parks, at some former airfields there is nothing left apart from the remains of concrete runways or perimeter tracks.
"We already have some modern photos from Norfolk and Suffolk, but not many from Essex, Cambridgeshire, Hertfordshire or Bedfordshire."
The Eighth in the East said it wanted to build up a photo archive online and for its learning packs.