Doctors who drowned in Tenerife were swept out by 'unexpected' waves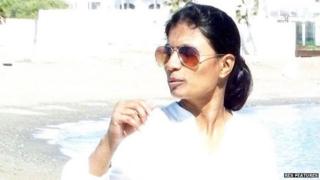 Two British doctors drowned when they were swept off the coast of Tenerife by a series of large and unexpected waves, an inquest has heard.
Barathi Ravikumar, of Lincolnshire, and Uma Ramalingam, of Greater Manchester, were both on holiday with their families when they died on 6 April.
Another woman and two children, aged 10 and 14, were also swept into the water at Playa Paraiso but survived.
A coroner in Stockport recorded verdicts of accidental death.
Coroner John Pollard said: "As they stood on a flat ledge of rock they were swept out to sea by a series of unexpected large waves."
At the time of the women's deaths, it was unclear whether they had been swept into the water at the same time as the children, or had dived in to try to rescue them.
Eyewitness Adam Cramer told BBC 5 live he got into the sea and helped one of the children, who was being pounded against sharp volcanic rock.
"She told me I saved her life," he said.
"As I got the girl out onto the rocks I could see that they pulled a body from the water and although they were desperately trying to save her I understand they were unable to."
Dr Ravikumar, who was 40 and married with two children, was a partner at the Heath Surgery in Bracebridge Heath, Lincolnshire.
A statement from the practice said she was "passionate about making a difference to healthcare in Lincolnshire and specialised in working with looked-after children".
Dr Ramalingam, 42, was a consultant obstetrician at The Royal Oldham Hospital Women and Children's Unit.
A statement said she was "a fantastic doctor who brought a lot of hope to the high risk women" attending the unit.